About Our Club Membership
A Volunteer and Social Organization
The Coral Gables Woman's Club is a social and volunteer organization that represents a wide spectrum of women of all ages.
In existence since 1923, Coral Gables Woman's Club is a 501c3 organization with a free children dental clinic on premise.
We are a diverse group of women, professional and homemakers, whose mission is to support and maintain our Coral Gables Children Dental Clinic, to provide volunteer services in various projects within the national and international communities and participate in club activities that promote health, finances, civic welfare and the arts and sciences.
Since 1939 the Coral Gables Woman's Club has been providing free dental care to children up to 18 years old, of low income families that do not qualify for any public funding.
Our Building - Two Distinct Wings
The Historic Coral Gables Woman's Club was constructed in 1936. A simple one story oolitic limestone building with a tiled roof was the results of the efforts primarily of Mrs. L. E. Langford. The city of Coral Gables donated the coral rock from the city owned quarry and the clubhouse was built on city owned property that was turned over to the Woman's Club twenty years after it was constructed.
The clubhouse was the first (WPA), Works Progress Administration project in Coral Gables. With the WPA artisans carved statues and mural paintings and for $10,000.00 the Woman's Club a historic building was constructed. What was once the Junior's side of the clubhouse was the original Coral Gables library. The building is listed as number 19 on the list of Historic Landmarks in Coral Gables. We now refer to this as the South Hall, 1009.
Membership Information




We're a part of the worlds largest woman's organization, the General Federation of Woman's Clubs - GFWC.




We help support many different projects and charities.





Our common bond is a commitment to making the community a better place to live through helping other organizations.



As a member of our organization, you will have the opportunity to work with women on an international, state and local basis serving the needs of the community. For a list of agencies that benefit from our efforts visit: LINKS



How to Join


We encourage new membership. Anyone who is interested is invited to visit the club during a meeting. For information about becoming a member of our club, please email our Membership chairwoman: Kimberly Davison
Ksdavi@me.com or 305-778-6166

This takes you to our Membership Application, to be completed and mailed, or brought to a Club meeting.



Once your application has been accepted you will be mailed a welcome letter and the Club's bylaws. Yearly membership dues are $60.
Pay your dues conveniently using PayPal
Use the link below by hitting the DONATE button and put in the amount for your dues OR you can simply log into your PayPal and send to: nancy_desmangles@yahoo.com
BUT if you send to Nancy's email address please be sure to choose "friends and family" so the club is not charged any fees for taking your dues payment online.
Meetings​
We meet the 1st and 3rd Wednesday of every month. The first meeting of the month is a General Meeting. The second meeting is a "Fun Night."

6:30pm Social Time & 7:00pm Meeting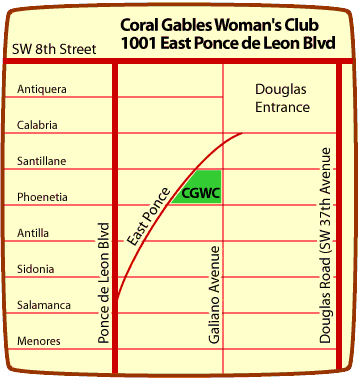 GFWC CORAL GABLES WOMAN'S CLUB MISSION STATEMENT
The object of the Club shall be:
To provide the opportunity to volunteer services in various charitable projects within the community and the world, and to participate in numerous club activities.

To provide funding, operate and maintain the Coral Gables Children's Dental Clinic, to be instrumental in providing civic and municipal improvements, to promote the arts and sciences, to promote education and to be concerned with and to promote civic welfare.

To promote and operate the GFWC Coral Gables Woman's Club, Inc., a not for profit corporation, organized for the purpose of raising, receiving and administering funds for the public welfare, so as it will qualify as a tax exempt organization under section 501(c)(3) of the IRS Code, and/or any corresponding future federal tax code
​